If you're looking for an affordable and dependable option to get rid of your trash, rent a dumpster with ROMO Junk Removal!
ROMO Junk Removal Services is an expert at offering trustworthy and cost-effective dumpster rental services. Due to our extensive experience in the waste management sector, we know how crucial a quick and effective junk removal is for contractors, businesses, and homeowners alike. We can handle tasks of any scale, from small home cleanouts to huge construction sites. We provide variable rental terms so consumers can rent a dumpster for as long as necessary. In addition to providing dumpster rentals, ROMO Junk Removal offers knowledgeable advice to help clients select the best container size and make sure their garbage disposal requirements are satisfied.
Don't let your waste pile up, rent a dumpster from ROMO Junk Removal Dumpster Rental Services and get the job done right!
To ensure that you benefit fully from your dumpster rental experience, our team is dedicated to offering first-rate customer care and knowledgeable assistance.
Several dumpster sizes are available, depending on your needs
Flexible rental periods to fit your project timeline
Affordable pricing with no hidden fees
Reliable delivery and pickup services for your convenience
Environmentally responsible waste disposal practices
Knowledgeable customer service and support
Online booking and payment options
Same-day rental and pickup options for urgent needs or last-minute projects
The Advantages of Dumpster Rental
Discover how dumpster rental can make your project easier, safer, and more cost-effective with ROMO Junk Removal services. Here are the advantages of dumpster rental.
Enables hassle-free and easy waste management
Contains debris, lowering the possibility of injuries and responsibility
It can be more cost-effective and time-saving than other disposal techniques
Keeps your project site neat and organized. Are you prepared to enjoy the advantages of renting a dumpster? Experience the many advantages and benefits of renting a dumpster from us!
How to Choose the Right Dumpster Size
Do you have construction, landscaping, or home remodeling projects planned? An effective option to get rid of the trash left over after your job is to rent a dumpster. However, how do you pick the appropriate dumpster size?
Here are some examples of how to choose the right dumpster size:
Be mindful of the type and amount of garbage you will generate
Think about the available space for the dumpster on your property
For assistance with the ideal size for your needs, consult with our staff
Consider getting a larger dumpster than you think you'll need since it's always preferable to play it safe in case you underestimate the amount of junk you need to discard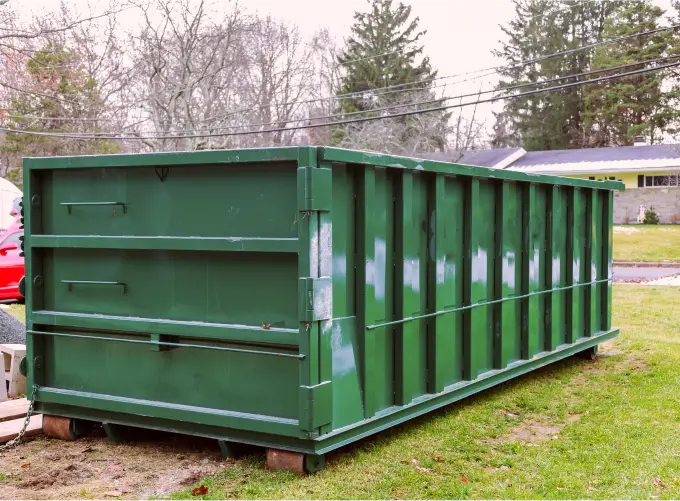 Our Commitment to Sustainable Dumpster Rental Practices
We at our dumpster rental business recognize the significance of using sustainable garbage management techniques. By incorporating green practices into every part of our business, we are committed to reducing the damaging consequences of our services on the environment.
To reduce the effect of landfills, we recycle as much garbage as we can
When it comes to recycling and appropriate garbage disposal, we abide by all local and federal laws
To lessen our ecological impact, we employ equipment and trucks that are fuel-efficient.
For the benefit of both our customers and the environment, we are dedicated to enhancing our sustainability initiatives on a regular basis
Bring junk to the landfill yourself no more! Enjoy hassle-free disposal by renting a dumpster from us! Contact us now to reserve yours!
Take action today and say goodbye to junk.